Post by Ziva David on Jun 20, 2008 8:51:06 GMT -5
Name:
Ziva David
Nicknames:
None
Age:
somewhere in the 25-30 range (exact age unknown/not given in show)
Gender:
Female
Birthday:
July 31
Height & Weight:
5' 6", 145
Species:
Human
Race:
Israeli
Sexuality:
Straight
---
Personality:
As far as Ziva's personality goes, she can be best compared to a cat. She does things on her terms, isn't a fan of being in large groups, and, while she may appear gentle, could do a lot of damage before you even realize she's done it. While not necessarily anti-social, shedoes prefer solitude to group work, and will open up to someone in her own time. She's not one to be rushed into anything. On top of that, her Mossad training engraved that having and showing any emotion was a sign of weakness that allowed the enemy to win, and although that mentality has relaxed some after being with NCIS for three years, there is a part of her that is still very guarded.
ZIva is also a vicious fighter, and not one to be underestimated by her opponents. She can hold her own and then some, and has been the cavalry of sorts to all of her teammates, saving one of them from harm on several occasions. She has a short fuse that is easy to ignite, and once it's lit, beware. Her outbursts of temper have been known to be violent. She also has a tendency to draw into herself when something traumatic occurs, seeming more moody and violent than on any given day.
In complete contrast to this is the Ziva that is kept deep inside, only showed to those she truly trusts. She's girly and vulnerable, and scared to let someone get close to her for fear of being hurt. When the weapons are set aside and it's just Ziva at home with no one else to see (except maybe Tony on rare occasions), all that is left is a scarred, lonely woman.
Appearance: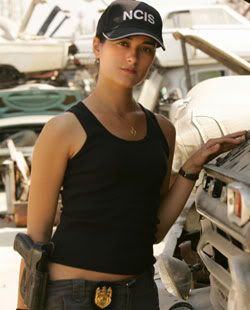 History:
Little is known about Ziva's past. She's a secretive woman who shares details of her life on her terms. All that is known for certain is that she was a member of the Israeli Army for at least two years, was a Mossad operative by the time her little sister Tali was killed by a suicide bomber, and that she was the half-sister of the rogue operative Ari Haswari. Her father is the Director of Mossad, and, from what evidence is given in the show, the two do not have a close relationship. After coming to America to find Ari (although she wound up killing him to save Gibbs's life) she signed on to become a Mossad liason with NCIS, joining Gibbs' team.
Other information:


Obvious attraction to Tony

Sees Gibbs as more of a father figure than her own father

Close friendship with everyone on the team

Doesn't trust the new Director

Feels responsible for Jenny's death

Adores all Disney movies; her favorite is The Little Mermaid

When they were taken from the story:
Just after the events of the season finale.
---
Series:
NCIS
Proof:
en.wikipedia.org/wiki/Ziva_David
Other notes:
Ziva has a hard time trusting people, so if she's not your best friend upon first meeting, don't take it personally. Also, as Tony frequently observes to newcomers, Ziva knows how to kill a person 18 different ways with a paper clip. It would be wise to stay out of her way when in a bad mood.
---
Sample Post:
Ziva stared across the bullpen at Tony's empty desk, sighing heavily. She was worried sick. Why did he have to be the one to volunteer to go to Iraq? Even if she hadn't been before she'd have been worried, but having been in more situations like what was going on now than she'd care to remember... It was too much to handle. She worried enough about him when he was right there in front of her. Now he was halfway around the world, and, for all she knew, caught in the blast from a suicide bomber...
Stop it, Ziva,
she commanded herself, blinking back images of her sister's mangled body being buried as well as her own tears.
Thinking like that will only make you more crazy. Look! McGee is already questioning your well-being, and it won't be long before Gibbs asks. You do not need to worry them all.
Without a word, she stood from her desk and sought refuge in the ladies room for the unpteenth time since he'd left.
Splashing cold water on her face, she stared blankly at her reflection, reaching back to her Mossad training to get a hold of herself. Emotions were weak, not to be shown. Tony was a strong man, he could handle this. He knew how to take care fo himself. Besides, she'd never hear the end of it if he knew she was sick with worry the einter time. Allowing herself a small smile at that thought, she got a grip on her emotions and strode back out to her desk, telling herself to get those reports done for Gibbs and not check Iraqi time every five minutes.