Post by ExceedinglyPeculiar on Nov 9, 2008 12:03:39 GMT -5
Me? Recycling old apps? Never!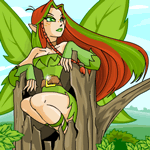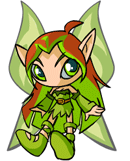 Name:
Elifleai (El-ee-flee-eye) Goldenleaf.
Elifleai is very aware that she possesses a fairy's name. She's pretending her parents were very into fairy tales and named her after the Queen of old. This is actually true, though the Queen in question was Elifleai's great-great grandmother.
Age:
1,638, although she's pretending to be 24.
Grade:
Teacher (Mythology, maybe? Something to do with folklore, I'd think, since she wants to see what humans think about supposed "mythical" beings)
Occupation:
Queen of the Fairies
"Hm, what? Fairies? Who said anything about fairies? I'm a teacher. ;D "
Sexuality:
Heterosexual
Fandom:
None that's published.
Any Other Characters?:
Not.
Model:
Illusen the Earth Faerie
Physical Appearance:
Elifleai appears to be around twenty-five years old. Her eyes are a sort of debatable blue-ish green. There is no whites in her eyes, however, just a soft green color that she'll have forgotten to hide from her students. Her pointed ears would stick out through her hair without her glamour hiding her fairy aspects. Color-wise, her hair is a bright auburn (with green highlights) that reaches past her waist. Her hair sticks up a bit in the back. Elifleai tends to put little braids in her hair when she's bored. Usually the first one goes on her right side, just before her ear. She also has a few scattered freckles. By way of make-up, she'll just go with green eyeshadow and lip gloss.
Elifleai is rather tall and willow-y, about 5'9". She has noticeably long fingers and appears very... light - as if the wind could just blow her away. Of course, she is, in fact, very sturdy and stubborn. She could, however, jump into the air for a standing take-off.
By way of clothing, Elifleai wears soft, muted toned dresses that fall to her knees. She would prefer to wear fingerless gloves, but she's found, to her dismay, that they don't go with all of her outfits. Her shoes consist of a variety of flats, her favorite being green ballet flats. She sometimes ties wide green ribbons around her lower leg. She also has a leather choker necklace that matches a wide leather belt.
On non-school days, she could easily be found in the park, wearing her fairy dress, made of soft, green leather that falls to mid-thigh. She could also easily be seen with her bow, practicing her shot. At first glance you wouldn't recognize the bow, as it's made from a straight tree branch she magicked into bending for her. It could also be noted that her arrows fly with a slight green sheen to them, and they fly faster than should be possible, as her magic acts on its own to perfect the shot.
Of course, the most noticeable thing about her unchecked appearance would be the large, leafy-looking wings on her back. These are hidden by a glamour, but if one knew they were there, one could feel them, or feel the air shifting when they move. Sometimes - and this is an extreme rarity - her focus will shift and a
slight
outline of her wings will appear. She's quite good at catching when this happens, and the human brain is very good at forgetting what it deems impossible.
Personality:
Elifleai tries her hardest to be as diplomatic and understanding as possible. However, she is not quick to forgive and forget. She tends to hold grudges longer than necessary, her perfect fairy memory not helping much in that department. She tends to be a bit impatient, noticeably calming herself when this occurs. This isn't to say that she doesn't have patience at all, just that it can be exhausted faster than she would like (although this is quite long by human standards).
Overall, Elifleai is kind and gentle. She has been Queen long enough to know that you attract more flies with sugar than vinegar. When someone is rambling without any clear sign of stopping soon, Elifleai has a bad habit of zoning out and daydreaming. She's done this enough times to learn how to compose her face to make it seem as if she is listening, while she, in fact, hasn't heard a word the fairy had said.
While around humans, the very alien aspects of her character tend to stand out. Like the way she stares at things, like she has
no idea
what they are, even if it's something as simple as a pencil eraser (fairies use quills and bottles of ink). Another note is her speech patterns. Her accent sounds slightly English, if one hasn't heard an English accent recently. She tends to have strange expletives, like "By the sun, moon, and stars!" or insults like "Go bury your head." The former would be an exclamation used for when you don't believe something is possible/could be happening, and the latter means something to the equivalent of "go shoot yourself." Obviously she won't be using that phrase unless someone
really
pushes her buttons.
Elifleai is extremely accustomed to not having to hide her wings. On occasion, she would seem to "flit" to and fro, her feet barely seeming to touch the ground, especially when she's agitated. Of course, she would be forgetting that she's not supposed to be flying and try and keep herself as close to the ground as possible. It probably helps that she's so tall.
Likes:

Forests

Flying

Human myths

Earth-y stuff

Dislikes:

Humans in large numbers

Iron

Tedious and/or monotonous questions

Human transport vehicles

Construction

Strengths:

Memory

Understanding

Kindness

Not losing her temper

Weaknesses:

Patience

Holding grudges

Attentiveness
What's the one thing your character would do anything to avoid?
Exposure of her race
What's the one thing your character wants the most?
Peace underground
Family:
Her parents have both moved on. They had always been strict and firm during her upbringing, but she loved them.
She is an only child, though in fairy custom
everyone
is some form of family.
History:
Accounting for every little detail of Elifleai's early life is difficult; history was told by word of mouth, and she herself was too little to remember. (The way fairy memory works is that they remember little to nothing from birth till age fifty, then remember everything perfectly until the day they die.) One thing she does remember is being very, very small and thinking the trees of her home reached all the way to the Heavens. She taught herself to fly while her Nana was asleep and her parents were away. She does know that she was Princess Flea to her childhood friends - their developing vocal chords not quite up to "Elifleai."
It did not take long for Flea to mature into Elifleai. She was a very determined young fairy; when she wanted something, she would go to great lengths to get it. She was ready to begin ruling the Fairy Kingdom after her 100th birthday (as fairies live much longer than humans, they grow at a much slower rate).
Elifleai encountered few obstacles during her long reign. Her only problem, it seemed, was her inability to find herself a Consort. It would have lessened her workload considerably. Sure, suitors were always flying her way, but none of them ever "clicked" with her. Oftentimes she would go to her throne room to find the place infested with roses intended as gifts for her. Now, you should
never
give an earth fairy a plant as a present, since all plants "sing" to them (difficult to explain, so please just bear with me here). She would know everything the fairy was saying while purchasing, picking, or planting the flowers. While this mode of gathering information is not always very reliable, it was enough to know that she was only desirable for her position.
Another pressing concern is the human expansion into the forests and underground - where fairy cities have been for a millennium. The Kingdom is divided in its ideas of what to do about this. Dark fairies believe it is time to fight back; fire fairies think they should put a level of molten lava between the fairies and the humans; water fairies agree, only they want to use water instead of fire; light fairies want to reveal themselves and make peace; earth fairies want to retreat further into the Earth; and air fairies want to make new settlements in the clouds.
While all the suggestions are reasonable, Elifleai is still torn. She has decided to investigate the human world for herself, particularly the younger generation.
Possible Plot Ideas:
Ummm..... I dunno. xD Someone figures out what she is? Blackmail?
Anything Else?:
Since Elifleai is a fairy, she has magic and stuff. She's an earth fairy, so her power is green in its tangible state. She can also fly with her wings. Also she's good at archery.
Fairy laughter affects humans considerably, especially those of the opposite gender. It has an alluring tone to it, though the fairies aren't aware of this themselves. This could cause some problems with her colleagues or students...
RP Sample:
Elifleai ran her fingers through her silken hair in annoyance, wings fluttering. She could hide the entirety of the Fairy Kingdom from the humans, yet she could not even find her own blasted hairbrush! She hovered several inches off the ground, letting her wings beat the air. It was her easiest way of letting out her frustration. At least, the most non-violent way. She used to blow up acorns, but it wasn't in good spirits for an earth fairy to destroy items of nature. So she had to content herself with beating up the air.
Finally she located the brush behind her pillow. How it got there was completely beyond her. Elifleai ran it through her hair to get out the stubborn tangles, admittedly more violently than she would have originally intended.
Code phrase:
song of purple summer