Post by Megara on Jun 10, 2008 11:31:34 GMT -5
Name:
Megara
Nicknames:
Meg
Age:
assumed to be around 18
Gender:
Female
Birthday:
June 27 (the release date of the movie.... Actually, it's also
my
birthday... Odd.)
Height & Weight:
5'5"
Species:
Human
Race:
Greek
Sexuality:
Straight
---
Personality:
Meg is very sarcastic, flirty, strong, and independent. She doesn't open up easily... or at all. She can be fiercely loyal to someone she loves, risking her own life to save his. Her excuse is that people do crazy things when they're in love. She prefers to do things on her own.
It would seem that Meg has an "I hate the world" attitude. She keeps herself detached from emotions to avoid getting hurt again. While she was in service to Hades, she lashed out at any and all who tried to help her.
She also has a terrible fear of heights.
Appearance: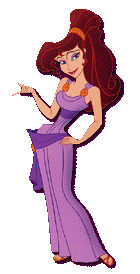 Megara has curly chestnut hair that she keeps pulled back in a ponytail. She has dark violet eyes. She normally wears a dress a lighter purple than her eyes with strips of darker purple around her waist and torso. She wears some kind of eyeshadow of the same color. She is also very, very thin.
History:
-coughwikipediacough-
Not much is known about Megara's past, except that she sold her soul to Hades so that he would rescue her lover (this was revealed to be Adonis in the Hercules animated series). Hades did so, but soon after, her lover fled for another girl. Megara then became Hades' slave and had to obey him.
Megara first met Hercules while she was trying to convince the river guardian to join Hades for an uprising. Hercules mistakenly thought she was a damsel in distress. While Hercules took an instant liking to her, Phil and Pegasus became jealous. Meg has many nicknames for Hercules, such as Wonder Boy.
Meg feared her heart being broken again,and swore to renounce men. When she discovered she was falling in love with Hercules, she did all she could to fight it but gave in eventually. When Hades found out that Meg had fallen in love with Hercules, he took advantage of it while making a deal with Hercules. Hades asked Hercules to give up his powers for twenty-four hours (when he was set to overtake Mount Olympus) in exchange for Meg's freedom. Hercules agreed, as long as Meg wouldn't be hurt.
However, Meg does get hurt by pushing Hercules out of the way of a falling column, being crushed herself. Hercules got his powers back, because Hades promised Meg wouldn't get hurt. The Fates then cut Meg's thread of life and she dies, so Hercules travels to the underworld to retrieve Meg's soul. A battle ensues between Hades and Hercules and Hercules eventually wins, returning with Meg's soul in his arms. This act of selflessness is enough to prove Hercules a true hero resulting in him becoming a god.
Meg is restored and both Hercules and Meg are transported to Mount Olympus on a cloud. Hercules is greeted by the gods and is now welcome to live on Mount Olympus himself. However, he declines in order to be with Meg on Earth.
Other information:
Hopelessly in love with Hercules?
When they were taken from the story:
She shoved Herc out of the way of a falling pillar and died. =D
---
Series:
Hercules
, 1997 Disney movie
Proof:
Other notes:
Er... She thinks she's dead?
---
Sample Post:
Megara groaned and rolled over. She immediately sat up and looked around, expecting to see Hades. She
had
died, hadn't she? Plus, if she hadn't, then where was Phil? The satyr had stayed by her side since Hercules had left.
Hercules... Meg allowed herself a small smile at the expression on his face when she'd told him she loved him. Oh, how she wished she knew what was going on on Olympus! The last she remembered, the Titans had imprisoned Zeus and all the gods. How could one man defeat all the Titans on his own?
She shook her head. Now wasn't the time to worry about the living. Right now she should be concerned about where she was.
Meg looked around. She was in some sort of corridor, that was certain. And... the rugs weren't something you saw everyday.
This... was definitely
not
Greece. Oh, gods, she had no idea where she was.
What had happened?