Post by Pegasus J. Crawford on Jun 11, 2008 2:37:43 GMT -5
Name:
Maximillion Pegasus/ Pegasus J Crawford
Nicknames:
Pegasus
Age:
24
Gender:
Male
Birthday:
October 8th
Height & Weight:
6ft tall 14st
Species:
Human
Race:
human
Sexuality:
Bi Sexual at least
---
Personality:
Despite his age Pegasus has a somewhat childish personality, this is showed in his toon monsters deck. He also enjoys irritating his opponents, often tagging on against those he views beneath him if they're male 'boy' to the end of their name, such as Kaiba-boy and yugi-boy this is also possibly in part also to his childish personality.
When he does get angry though it shows through in his loyalty as well as his more devious smarter side. The side that introduced him to egyptian mythology and caused him to create the duel monsters card game. Slightly power hungry it was his need for knowledge and power that caused him to sacrifice one eye to gain the millenium eye.
Appearance: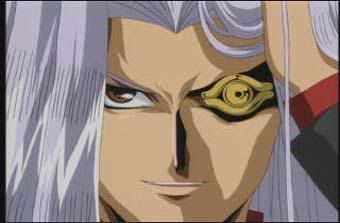 History:
As a young child Pegasus always felt that there was some higher calling for him. The moment he could he left his united states home and travelled to a place that always held great interest to him....Egypt. There he learnt about the gods and dueled using shadow monsters an unknown male. The deal if he won he was given the millenium eye, sacrificing his own eye. He did win and survived the pain as his left eye was gouged out to be replaced by the millenium eye.
using his knowledge of the shadow monsters he created duel monsters. A card game that soon took off. Indeed the only corporation that could rival his industrial illusions was Kaiba corp. During his time actively dueling he grew very interested in yugi - most particularly in his millenium puzzle. He dueled him many times, even going so far as to trap the soul of his grandfather in the shadow world, as well as Moukaba's (Kaiba's kid brother) to bring Kaiba there. Before he dueled Yugi he also dueled Kaiba to show to Yugi his power. When Kaiba lost he too was trapped in the shadow realms.
After his defeat at the hands of Yugi/Yami for the fifth time he was approached by Ryo Bakura, who was after his millenium eye. Ryo Bakura challenged him to a duel but before he could accept he suddenly felt himself been taken elsewhere, why he didn't know.
Other information:
His Yu Gi Oh Card Deck
Pegasus - the creator of Duel Monsters, aka the Yu Gi Oh Trading card game - uses a special deck with many cards only he possesses. This deck is known as the 'Toon deck' due to is amount of Toon monsters. Its effects are special to only this deck and include the ability to attack the opponents life points directly, as well as bring any card back from the graveyard.
His deck is as follows:
Monsters
Normal Monsters
* Dark Rabbit
* Flying Elephant
* Illusionist Faceless Mage
* Parrot Dragon
* Red Archery Girl
* Ryu-Ran
* Toon Alligator
* Thousand-Eyes Idol(x2)
Effect Monsters
* Blue-Eyes Toon Dragon
* Dark-Eyes Illusionist
* Dragon Piper
* Jigen Bakudan
* Manga Ryu-Ran
* Mask of Darkness
* Toon Dark Magician Girl
* Toon Mermaid
* Toon Summoned Skull
* Toon Masked Sorcerer
Fusion Monsters
* Bickuribox
* Thousand-Eyes Restrict
Ritual Monsters
* Relinquished
Spells
* Black Illusion Ritual
* Doppelganger
* Eye of Illusion
* Magical Neutralizing Force
* Negative Energy
* Polymerization (x2)
* Prophecy
* Shine Palace
* Toon Roll-Back
* Toon Table of Contents
* Toon World
Traps
* Dragon Capture Jar
* Gorgon's Eye
* Tears of a Mermaid
* Trap Displacement
* Toon Mask
His millenium Eye
Pegasus' millenium item is the millenium eye. This eye is in place of the eye he had gouged out specifically to be able to use it. It enables him to read the minds of others, thereby in a duel allowing him to know exactly what his opponent is thinking and planning.
When they were taken from the story:
before his defeat to Ryo Bakura
---
Series:
Yu Gi Oh
Proof:
en.wikipedia.org/wiki/Yu-Gi-Oh%21
Other notes:
Not to my knowledge, hope all the proof is there
---
Sample Post:
Pegasus sighed as he let his millenium eye focus on his opponent. This was going to be so easy. Beneath his fringe of hair his millenium eye glinted as he gave a slight smile easily reading which cards he was going to use as he glanced down through his hand. Perfect. He smiled as it came to his turn. A soft laugh left his lips.
"Well well, looks like your in for a world of pain, a world of destruction, a world of chaos, a world of absolute...mayhem," he laughed softly again "That's right," at this he placed the spell card Toon World onto the spell card space "A world of TOONS!" he laughed as his Toon world spell card activated itself. Perfect.
A book appeared with 'Toons' on it and fell open revealing a castle and graveyard in the simple Toon style. He glared as his opponent made comments on his use of Toon decks. They obviously didn't know there full power. "I summon Toon Masked Sorcerer," he laughed softly as the masked summoner came. "I also place this card face down on the field, for later," he chuckled quietly. "Your turn," he said with a slight smile.