Post by Seto Kaiba || Mokuba Kaiba on Jun 13, 2008 8:27:14 GMT -5
Name:
Mokuba Kaiba
Nicknames:
none as known
Age:
13
Gender:
Male
Birthday:
July the 7th
Height & Weight:
4ft 8, weighing about 68lbs
Species:
Human
Race:
Human
Sexuality:
Straight
---
Personality:
Moukuba is extremly loyal to his big brother, Seto Kaiba, often referring to him as nii-sama (honourable older brother). He's a bit of a spoilt brat at times and doesn't like it when his brother gets defeated by Yugi or anyone for that matter. No one is better then Seto Kaiba to him. Unfortunatly, for Seto at least, Mokuba is rather naieve. This has often led him to getting kidnapped by Seto's enemies for whatever reasons.
Appearance: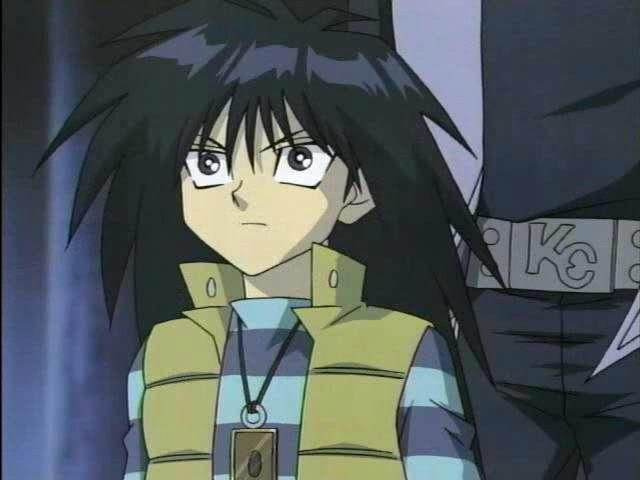 History:
Mokuba was born on July the 7th, his mother died giving birth to him, leaving only his father and his older brother Seto to look after him. Mokuba couldn't have asked for a more loving father or a more caring brother and things went well, until his father was involved in a car accident. After that it was just him and his brother as they were taken to an orphanage.
During their stay many people wanted to adopt Seto, he was smart and clever, but not once did his older brother take up the offers, determined to not leave Mokuba. One day Gozaburo Kaiba visited the orphanage on a publicity stunt. Seto challenged him to a game of chess, with the deal being if Seto won then he would adopt them both. Naturally his older brother won and so Mokuba along with Seto was adopted into the Kaiba family.
Unfortunatly the relationship between Gozaburo and Seto was less the easy, and Mokuba often felt like the amount of lessons Seto was taking was taking him away from him. There were many arguements between Gozaburo and Seto that left Mokuba feeling scared but all the same he loyally stood next to his brother. After Noah's death and when Seto was 16 they were both given a percentage of the company shares.
Mokuba, naturally, gave his 15% to Seto, giving Seto the percentage he needed to take over the company fully from Gozaburo. Shortly after Gozaburo disappeared, Mokuba never found out why. This is where the two show some differences, whereas Seto rightfully went on to become the world champion of the newest craze - Duel Monsters - Mokuba became much better at a game called "Capsule Monster Chess" or "Capmon" for short.
After Seto's defeat to Yugi though Mokuba was left in charge of Kaibacorp, and soon Pegasus was after taking the company over. He himself found himself kidnapped and trapped in the shadow dimensions. He was kinda joined by Seto when Seto too lost to Pegasus' millenium eye. They were both rescued when Yugi defeated Pegasus, but rather then finding themselves back in the real world that they knew, Mokuba found himself here. He doesn't know his brother is here yet.
Other information:
Adoptive Father: Gozaburo Kaiba – Deceased
Adoptive Brother: Noah Kaiba – Deceased (his mind lives on inside a virtual reality).
Natural Brothter: Seto Kaiba Kaiba – Alive, and he thinks he's still at KaibaCorp, not knowing his nii-sama is actually in the same dimension (Seems you just can't seperate the two of them)
When they were taken from the story:
Just after being released from the shadow realms after Pegasus' defeat to Yugi
---
Series:
Yu-Gi-Oh
Proof:
en.wikipedia.org/wiki/Mokuba_Kaiba#Mokuba_Kaiba
not really
Other notes:
anything you need us to know.
---
Sample Post:
Mokuba frowned as he let his young eyes flicker open frowning. Where was he? This wasn't KaibaCorps, and it certainly didn't look like any place he knew. Slowly he sat up frowning as he looked around. Where was brother? "Nii-sama?" he said quietly as he looked around, touching the card that he himself wore around his neck. Although he didn't play Duel Monsters this card had been a present from Kaiba and it was reassuring for him. He reached up to push his unruly fringe out of his eyes sighing slightly.
One thought stuck in his mind, he had to find Nii-sama. How would he cope without Mokuba there afterall? More like how would Mokuba cope without him. He'd never been away from him, not since his blood father had died. In a panic he started to run looking everywhere trying doors, finding many of them locked. Unfortunatly panicking was never much good and it proved itself right in this instance. Slowly he sank to his knees starting to cry as he struggled to remember to keep breathing struggling to breath from panic and from running so much.
"Nii-sama?" he whispered softly.