Post by L Lawliet on Jun 17, 2008 13:54:53 GMT -5
Name:
L Lawliet
Nicknames:
L, Rue Ryuuzaki, Danueve, Eraldo Coil, Hideki Ryuuga, etc.
Age:
24
Gender:
Male
Birthday:
October 31, 1979
Height & Weight:
5'10", 110 pounds estimated
Species:
Human
Race:
1/4 French, 1/4 British, 1/4 Italian, 1/4 Japanese
Sexuality:
Unknown but likely bisexual
---
Personality:
As the top detective of the modern world, L is an incredibly secretive individual. His communication with the outside world is handled through his laptop, which is transported to various locations by his assistant Watari. He is a genius of unusual caliber, having successfully engaged in a detective war with the original Eraldo Coil and Danueve for their titled when he was roughly 18 years old.
He has a very soft-spoken and emotionless way of speaking and acting, but he is in fact constantly using his brilliant intuition to dissect the way people act. L freely admits that he is very childish, often lies, and is a terribly sore loser. He has all the maturity of a spoiled child, and has a mischievous streak that can cause great aggravation to his coworkers. L also demonstrates certain strange compulsive habits.
Examples: sitting with his knees drawn up, holding things with only his thumb and forefinger, rattling off seemingly random percentages, and eating only sweet things.
Appearance: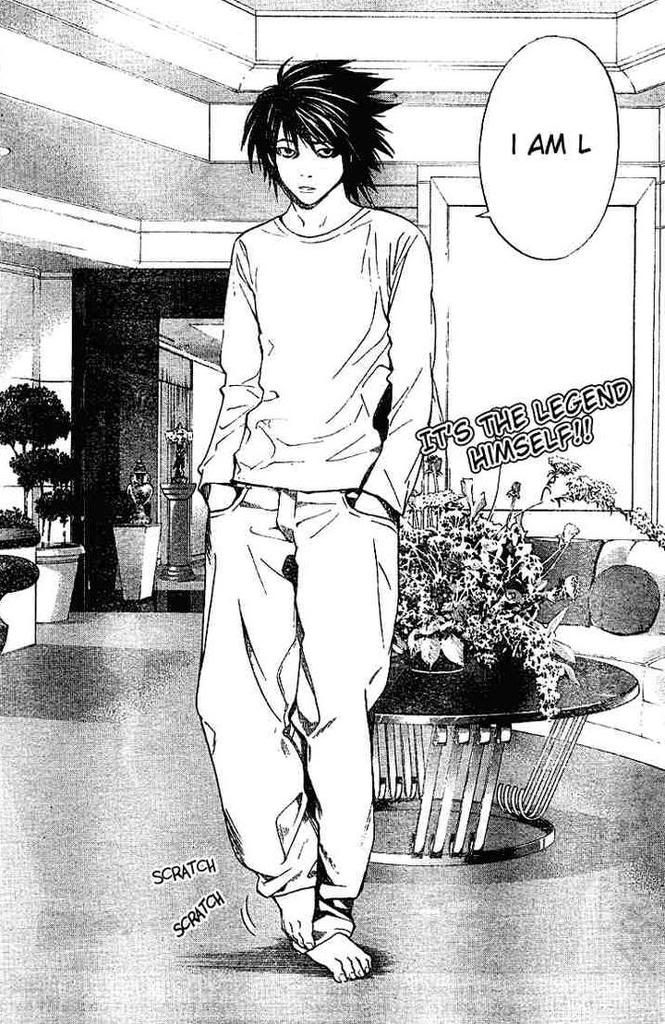 History:
After being orphaned at a young age, L was taken in by Quillish Whammy, also known as Watari. The great inventor ran an orphanage in England for gifted children and immediately recognized the genius potential that the raven-haired boy possessed. He brought the boy under his wing and trained him to become the world's greatest detective and later tried to create other detectives in the same mold. The first two backups failed miserably as one committed suicide and the other became one of L's rivals in the form of becoming a serial murderer. Only three boys were able to truly become L's heirs, and they are safely hidden away in the orphanage which raised L himself.
L was a phenomenon of a detective by the age of 18, but wanted to cement himself as the best in the world. thus, he engaged himself in a detective war against his only two worthy rivals Eraldo Coil and Danueve. This resulted in his own victory and his assuming the names of the other two detectives and taking on their case loads. This is most likely why he looks consistently sleep-deprived.
At the age of 24, the infamous Kira murders, where criminals across the world began dropping dead of unexplainable heart attacks, caught his attention. With Watari transporting his loyal laptop, he addressed INTERPOL that he would take on the case. Through a series of ingenious traps, he determined that Kira was a resident of Kanto and most likely related to one of the task force members. His suspicions fall to the police chief's all-too-perfect son Light Yagami. But with little to no evidence, it is possible for L to convict Kira in time? Even after imprisoning the boy for over a month and even L handcuffing him to his own wrist for 24 hour surveillance has yet to give any conclusive evidence....And what's worst is, Light is the only real friend L has ever had.
Other information:
Watari/Quillish Whammy: L's assistant, mentor, and father-figure
Near/Nate River: First in line to succeed L
Mello/Mihael Keehl: Second in line to succeed L, Near's worst rival
Matt: Mail Jeevas: Third in line to succeed L, Mello's best friend
Light Yagami: Main Kira suspect and L's best friend
Beyond Birthday: Former heir to L who went insane and became a serial murderer, looks almost exactly like L
When they were taken from the story:
He found himself in WC shortly after handcuffing himself to Light Yagami
---
Series:
Death Note
Proof:
www.answers.com/topic/list-of-death-note-characters
Other notes:
Not at this time
---
Sample Post:
"There is a 95% chance I am not currently in Task Force Headquarters...."
L thought as he shuffled up from the floor. He wasn't one to sleep and especially not one to flat out lose consciousness in the middle of a case. Nor had he been in a situation in which he'd woken up in a completely different environment. It was terribly disconcerting for the detective and he wasn't about to accept this without a good deal of investigation.
He sat in his usual crouching position and looked around. The Victorian atmosphere of his new surroundings reminded him a great deal of his time spent in England as a child. But surely he couldn't be back in England? He would have certainly known if he were to be transpoted here all the way from Tokyo...wouldn't he have?
As he brought his thumb to his mouth, he heard a jingling noise that he would normally have tuned out. Eyes wider and skin paler than usual, he slowly looked to his wrist. Dangling from the near skeletal joint, was the handcuff--or more accurately one half of the handcuff--which had connected him to Light Yagami. There were no bent or cut links in the chain, almost as if his half of the chain just disappeared with him, leaving Light behind in Tokyo.
Huffing like a spoiled child, he fell onto his backside and drew his knees up to his chin. This certainly was not conducive to his reasoning abilities!