Post by Leonard H. McCoy on Jun 18, 2008 10:33:00 GMT -5
Name:
Leonard Horatio McCoy
Nicknames:
Bones / Doctor / McCoy.
Age:
66.
Gender:
Male, dammit.
Birthday:
Sometime in 2227.
Height & Weight:Species:
I'm a god picking Human.
Race:
Caucasian, right?
Sexuality:
Straight and by God, if you think I'll be anything else, guess again.
---
Personality:
The good ol' country doctor is a spirited and outspoken man who always says what comes out of his mouth. It can either make you think or snarl at him in annoyance. Bones is also fiercely loyal to those he knows and can come off rough to those he doesn't. His actions often have left those wondering what exactly what he's up to, but trusting him is the best option. He knows the best alternatives to what needs to be done and hell be damned (pardon his language on that) if it's not logical.
Appearance: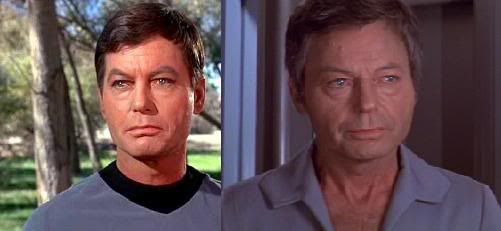 History:
It's a miracle these people ever got out of the twentieth century.
Leonard McCoy was born in the "Old South" region of North America on Earth, in 2227. He was the son of David McCoy. Childhood was not a bad one nor was it a dream come true, but one thing was for certain: The boy loved to play doctor. Years passed and eventually he began attending the University of Mississippi during the mid-2240s. Eventually, Leonard would attend medical school in which he was known to be a rather heavy practical joker. He graduated around 2245, and took up his practice. His early years prior to the Enterprise time found himself working with others, including his stationed work at Capella IV around 2266 and eventually being promoted to the rank of Lieutenant Commander.

Hey, Jim-boy – y'all ever had a real, cold Georgia-style mint julep, huh?
McCoy soon found himself on the Enteprise and with it, an old companion, James Kirk, and a new formidable foe (who'd become one of his dearest friends), the Vulcan Spock. During the five year tenure on the spaceship, the Enterprise crew found themselves often in many tough times, but survived them all, surprisingly. Of course, the constant disagreements between Bones and Spock provided those around them to know that they meant business most of the time.
Of course through all the battles, it grew him closer to a friendship with the Vulcan, even if he chose not to admit up to it. His worse moments could easily be when the Enterprise crew had to help evacuate individuals from a planet whose sun was about to go nova. It was here that Bones almost lost his life from undergoing the various methods (often torturous) of the Vians. Luckily for him (not so much Gem, an empath), his life was spared. By the end of the five years in 2270, he was now a commander and thusly retired. Or so he thought.

That green-blooded son-of-a-bitch! It's his revenge for all those arguments he lost!
During the V-Ger incident in 2272 (ST: The Motion Picture), his status was reactivated (thanks majorly to Kirk wanting him) and he was brought back to the Enterprise. Annoyed at first, but ready to work again, McCoy found himself doing what he did best and continued to do so for the following missions to come. Loss did take place, of course, when Spock risked and took his life to save the Enterprise crew from Khan's plans (The Wrath of Khan). It really left a dent in Kirk's life, but more importantly, McCoy suffered worse when it came to pass that he was carrying Spock's lifeforce, his
katra
(The Search for Spock).
Angry as hell, he had to deal with until the the ceremony of
fal-tor-pan
released the
katra
back into Spock's mind. Of course, it should be mentioned right now that the Enterprise crew was in rather large trouble in disobeying orders for going after Spock's body (per Spock's orders to Jim via Bones) so, they were now prepared to head back home in the Bird of Prey (The Voyage Home). Of course, more obstacles brought themselves known - some unknown entity was destroying the Earth's atmosphere and luckily for the resurrected (not working on all thrusters) Spock, he realized that the call was humpback whales.
So, the Enterprise crew went back in time and eventually brought the whales to the future, taking care of the problem. They did eventually were tried and Kirk was demoted back to Captain, which he accepted. Eventually, the incidents with Sybok (Final Frontier) and making intergalatic peace (aside the incident with Rura Penthe, we won't go there) with the Klingons (The Undiscovered Country) wore him out. The last thing the Enterprise crew did (without Hikaru Sulu) was to disappear off into the distance on one last journey and then into legend and fame.
Other information:
The chief surgeon, physician, psychologist, exobiologist, and a supposed expert in space psychology. His best friends are Jim and Spock. Does have a daughter (really hasn't done much with her) and was at one time in love with Nurse Chapel. It's likely he'll never wed again.
When they were taken from the story:
At the end of Star Trek VI: The Undiscovered Country.
---
Series:
Star Trek: The Original Series and the first SIX Star Trek films.
Proof:
L.H.M. at Memory Alpha
Other notes:
Expect him to mention a lot on how you may remind him of someone and his constant use of 'dammit' as well as the famous I'm a doctor, not a ___' moments.
---
Sample Post:
The bed wasn't comfortable, but what really could you expect? The sheets were by far the worst of them all. He was twisting and turning in his sleep, eventually shooting up to wake up, finding that it wasn't even past four am yet. "Holy mother of God ... Stupid, worthless, piece of crap," McCoy growled bitterly, heading to the replicator and asking for coffee. As it came out to him, he sipped momentarily on it while he thought what to do next. The day didn't start until another good four hours. Groaning, he stumbled slowly back over to the bed, lying the mug on the nightstand and placing himself onto the top of the bed.
Looking at the ceiling, he stayed motionless for a good while before scooting underneath the covers. Diplomatic peace. Finally achieved and in his lifetime. Who'd ever think it? He smiled briefly. "That green blooded hobgoblin actually did good," he said, nodding off to sleep once more, grinning as he drifted into dreams once more.